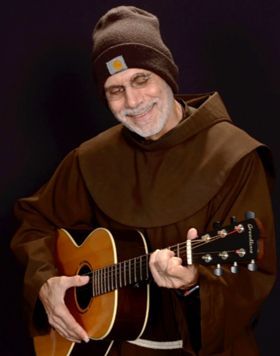 Evening Reflection
More Love than Skill: A Saint and His Fiddle
Bl. Solanus Casey
March 30
Experience God's peace through the lens and story of Blessed Solanus Casey set to music performed by Brother Al Mascia, OFM. The evening begins with Mass and a delightful dinner.
Mass celebrated by Fr. Dennet Jung, OFM
Concert composed by Br. Al Miscia, OFM
Blessed Solanus Casey is rightfully acknowledged for how diligently he prayed for those seeking healing and his selfless concern for the poor. His recent beatification testifies to the efficacy of his prayers and the apparent holiness of his religious life as a Capuchin Franciscan. But Father Solanus was more than an embodiment of human sanctity. As a friar he manifested the minstrelsy of St. Francis of Assisi who once said: "Who are God's servants but his minstrels, who inspire the hearts of people and stir them to spiritual joy!" 
More Love than Skill tells the story of this beloved friar by focusing on his cherished, lifetime companion: his violin! The piece is written and performed by Franciscan Friar Al Mascia, OFM. Brother Al is a professional musician and singer/songwriter who was instrumental in establishing the Canticle Café ministries of Franciscan hospitality in both Detroit and Cincinnati. He holds master's degrees from Catholic Theological Union and Western Theological Seminary as well as a Doctorate from Chicago Theological Seminary. For the purpose of this production Brother Al has undergone intensive violin instructions!
Mass begins at 5:30 p.m.
Dinner at 6 p.m.
Concert is approximately an hour and begins at 6:45 p.m.
$25 (includes dinner); freewill offering for concert
Our program is now FULL.
To be put on a waiting list, call the Maryville Retreat Center 
at 248-634-5566 or maryville@feliciansisters.org.